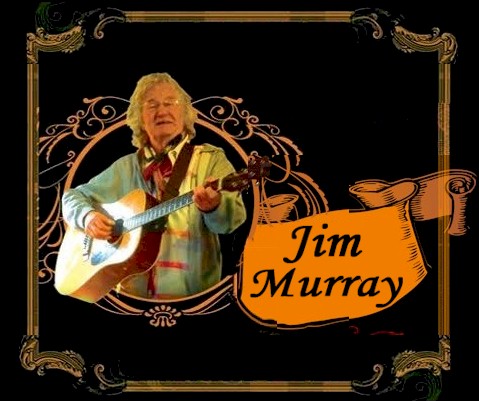 I started on the Tyneside folk scene in the early 60s : at the Beacon on the Lawe Top in South Shields, the Bridge in Newcastle and even as far as Sunderland. Then with brother Phil and Mick and Kevin Doonan started the (eventually) legendary Hedgehog Pie
.I then moved to London as a result of which hedgehog Pie went from strength to strength.
In London I sang in the early clubs ; the Singers Club , the Troubadour and the original Islington Folk Club at the Fox. In the 60s and 70s I played in clubs in many parts of the UK. In subsequent decades I ran clubs in London - The Collier's Rant Folk Club in Chelsea and at the Roebuck in Tottenham Court Road then later I ran folk concerts at the Irish Centre in Hammersmith.
These days I sing solo - sometimes accompanied by son Luke, or with the Too Good To Hurry band.
With the TGTH band ".. an excellent evening, with some intelligent reworkings of old songs, some revivals of songs I hadn't heard since my teens, and some new songs in solid traditional style. Highly recommended!". Valmai Goodyear , Lewes Folk Club.
Solo "James Bernard Murray is a stalwart of the quirky song. Be sure to be in by 8.30pm to catch this excellent singer do his thing.". The Buck at Reeth The Doonans + Support from Jim Murray
"a fantastic surprise in the arrival of James Murray, ex of Hebburn and Barnes, now very much of East Sussex and the Med. Jim is almost solely responsible for the existence of Hedgehog Pie and a great singer still." Jed Grimes guesting at Seaford FC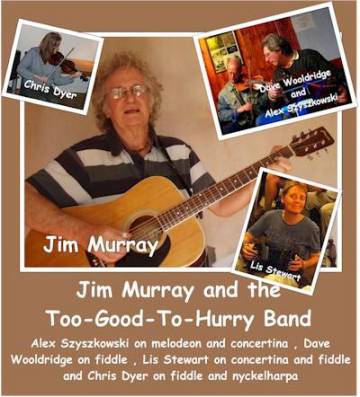 With the Too Good To Hurry band I am joined by Alex Szyszkowsi, Dave Wooldridge, Lis Stewart and Chris Dyer

Lis Stewart plays duet concertina (56 key MacCann), fiddle and keyboards. Based in London, she plays regularly for ceilidhs, at folk clubs and sessions. Her musical collaborations have included working with Duet concertina player Ralph Jordan, folk fiddler Pete Cooper, and traditional singer Peta Webb. Most recently, she had a solo concertina gig at the Tate in St Ives.
Chris Dyer made the conversion from chamber music to English folk fiddling, inspired (again) by Pete Cooper. Later she bought an IKEA flat-pack fiddle but when she put it together she found it came out as a nyckelharpa. As well as English music, she regularly plays in Swedish sessions with Tom Paley and each month MCs a Scandi session in central London. She plays in the English Nyckelharpa Collective and Euro band SE3.
Alex Szyszkowski and Dave Wooldridge play both in Cheap Jack and the world famous Islington Folk Club Angel Band. The Cheap Jack sound with Dave on fiddle and Alex on melodeon, is rooted in the English country dance tradition of John Clare, Thomas Hardy, and Fred Pidgeon, although their repertoire draws from all over the British Isles. Alex leads the Islington Angel Band, he sold Dan Quinn his first melodeon, he met Jimi Hendrix, and once lent Peter Green his Selmer Thunderbird amplifier when playing in the support band.
And here's a few live clips ("pretty rough and ready I'm afraid - just recorded with a mobile at the front" - Jim)



And a few more from various gigs
Reconcilliation by Ron Kavana.


The Collier Laddie's wife - another great song from Northern songwriter Billy Mitchell.


Bogie's Bonny Belle. Traditional Scottish song.


Bunch of Thyme. Traditional - except I've changed the words - and the tune



As Valmai Goodyear from the Lewes Saturday club says : "an excellent evening, with some intelligent reworkings of old songs, some revivals of songs I hadn't heard since my teens, and some new songs in solid traditional style. Highly recommended . . . and for those too young to remember (ahem) the band's name comes from the advertising slogan for Murray Mints !"


And here's Jim at the Mighty Doonans gig at the Davy Lamp Folk Club in Washington doing "The Schoolboard man" - sort of Tommy Cooper meets Tommy Armstrong , accompanied by The Doonans' Stu Luckley on guitar and Phil Murray on Bass.